Welcome to vihuelademano.com - home of the fluted-back
VIHUELA de MANO
designed and made by
Alexander Batov
Luthier
...with the ultimate purpose of recreating of the art of making the fluted-back vihuela as is so explicitly manifested in one of the finest surviving instruments of this kind, made by the Belchior Dias, Lisbon 1581
home vihuelas guitars viols contact
My most recent projects:
| | | |
| --- | --- | --- |
| | 'Henestrosa model' vihuela in A or G | |
Currently under construction: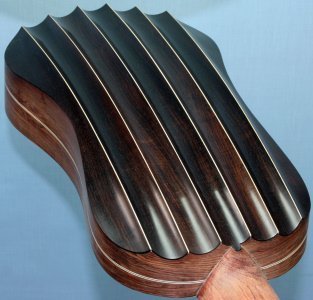 Fluted-back Dias vihuela with African blackwood (grenadilla) back ribs
Reconstruction of a plucked viola from the painting Madonna and Child with Saints by Veronese artist Girolamo dai Libri (1474 - 1555)
Listen to three versions of Mille Regrets by Narvaez 1 2 3 as played by Rob MacKillop on the vihuelas in F, in E and in G (Copy of the Belchior Dias vihuela, see below) accordingly.
There are many more free-to-download vihuela and baroque guitar recordings on Rob's new MP3 website (not to be missed!):
http://www.songoftherose.co.uk/
Rob visited my workshop in 2004 and tried the different vihuelas.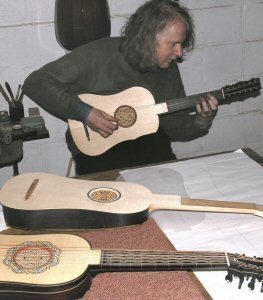 He has compiled a report on this visit which you can find here
Copy of the 6-course vihuela by Belchior Dias, Lisbon 1581
The original instrument is in the Royal College of Music, London
Listen to the sound of this vihuela (tuned in G, a' 415) as played by Rob MacKillop: Fantasia VIII (book IV) by Fuenllana
For more detailed analysis of the Belchior Dias vihuela see: The Belchior Dias 1581 guitar - vihuela.
For larger images click on the corresponding views below
The rose for my copy of the Belchior Dias 1581 vihuela is made the same way as roses of this type found in surviving late 16th century Venetian harpsichords and early 17th century guitars: two layers of wood (traditionally cypress, backed with very thin parchment, c. 0.1mm) and one bottom layer of parchment which carries punched and cut ornamental design (i.e. five layers in all).

According to the recent publication by the Cité de la Musique, Paris ("Aux origins de la guitare: la vihuela de mano") the rose in an anonymous vihuela E 0748 is made in a slightly different way, in three layers of wood each of which is reinforced with parchment (i.e. six layers in all).

A separate article by Stéphane Vaiedelich contains a very comprehensive section dedicated to analysis of the wood of the E 0748 vihuela. It concludes that the sides and ribs of the instrument are made of jujube (ziziphus genus Rhamnaceae). In a way this confirms the observations of a number of experts, who saw the vihuela, that the wood looks like "some kind of fruitwood".
This identification is particularly significant in relation to an entry in one of the historical accounts of the "Public sale of the instruments, tools and equipment of the violero Tomás Armengol of Mallorca" made on 18 June 1591*, which lists "Quatre trosso de gingoler …" (Four pieces of gingoler…) and "Alguns trossos de post y de gingoler ..." (Some pieces of boards and gingoler...). Gingoler is a Catalan equivalent for jujubier (French) or jujube (English) and, although currently on the brink of extinction, is still cultivated in Valencia for its fruits. Tenoras (traditional double reed oboes) are also made of this wood.
* see pp. 489 and 492 of "The Vihuela de Mano and the Spanish Guitar" by J.L.Romanillos and M.H.Winspear, The Sanguino Press, Guijosa, 2002.
Last updated 26 February 2012
© 2006 - 2012 Alexander Batov
home vihuelas guitars viols contact